Science
Science-Statement of Intent
Intent
At Sacred Heart RC Primary and Nursery School we want our children to be naturally curious about the world around them. Children naturally wonder – 'Why?' Science provides many of the answers to questions that the children ask. Our aim is to provide the children with first hand experiences to develop a sense of excitement and curiosity about the world around them. The children will develop their own investigatory, predictive and analytical skills to answer questions raised not only by the teacher, but by themselves. Science should also be a collaborative exercise with opportunities for the children to work together to answer a question, solve a problem, use technical language in a group setting to not only making their own thinking clear both to themselves and others, but also to build sound foundations of using discussion to question and correct their own thinking. We are committed to providing a stimulating, engaging and challenging learning environment. Throughout our school children are encouraged to develop and use a range of working scientifically skills including questioning, researching and observing for ourselves. We promote and celebrate these skills. We want our children to have a broad vocabulary. Scientific language is to be taught and built upon as topics are revisited in different year groups and across key stages. We intend to provide all children regardless of ethnic origin, gender, class, aptitude or disability with a broad and balanced science curriculum.
Implementation
We use Lancashire Planning to ensure high standards of teaching and learning in science, a curriculum that is progressive throughout the school. Planning for gives full coverage of The 2014 National Curriculum programmes of study for Science and Understanding of the World in the Early Years Foundation Stage. Wherever possible, Science is linked to class topics. At the start of each topic teachers take time to find out what our children already understand and want to find out. Our teachers use this to adapt and extend the curriculum to match children's interests and needs, current events, the use of any support staff and the resources available. We include the use of technology, wherever appropriate, to aid teaching and learning. Through teacher modelling and planned questioning we want our children to wonder about and be amazed and surprised by the world around them as we recognise that our children sometimes lack experiences. Key scientific language is modelled throughout lessons enabling our children to be familiar with and use vocabulary accurately. Teachers are also encouraged to plan in trips and visitors to enhance our children's learning experience. We aspire to promote children's independence and for all children to take responsibility in their own learning.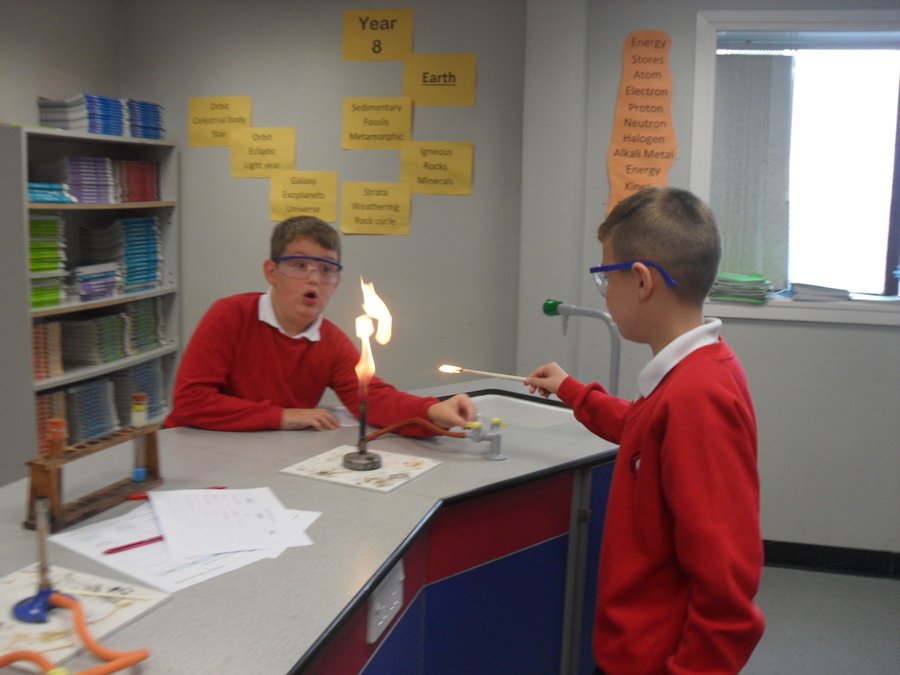 Year 4 Teeth and Digestion (April 2021)
This half term, the children in Year 4 are learning about the purpose of teeth and how the digestive system work. So far, they have completed an investigation to discover the different jobs the teeth have and also an experiment to see how plaque can affect the enamel coating on our teeth. Below are some photos taken during the investigation.
We watched a virtual Mad Science Assembly- 2nd October 2020
Plaque Attack- Friday 7th March 2020
Today, the children in Year 4 looked at the importance of cleaning their teeth properly. The children began by sorting out foods and activities which were good/bad for looking after teeth. They learnt about how plaque attacks their teeth and then used disclosing tablets to observe how much plaque they have on their teeth.
The children then conducted an experiment to using eggs placed in different drinks to see the effect they have on the egg and therefore their teeth. The results will be in on Friday so watch this space.
It's a Villain!! Wednesday 4th March
Today the Reception Class children helped to track down 1 of 3 villains in the outdoor area...the Evil Geese! With the help of a note from Super Duck and an antidote in hand once they tracked him down they made him explode! The children were fascinated in the changes they saw and couldn't stop talking about the villain they made explode.
Year 2 went to visit 'Bring Your Wellies'- Friday 28th February 2020
Making it rain in the classroom- 10th February 2020
In science, the Year 4 children have been looking at the different states of matter. Today, the children investigated how the water cycle works by creating their own version.
The children filled a bowl with hot water, covered it with cling film and placed ice cubes on top. After a few minutes the children started to see water droplets appear on the underside of the cling film. These droplets merged together and then dropped into the water below, just like rain in the water cycle.
Below are some photos taken during the investigation.
Week beginning 10th February 2020
During our 'Keeping me Safe' Week the Nursery pupils explored nose blowing, keeping safe on the internet, washing our hands, brushing our teeth, foods that are good for us and we can eat lots of and foods which we should enjoy just a little of because they are sugary or fatty. We made fruit kebabs using bananas, blueberries, pineapple, apple, oranges and strawberries.
Year 4 have been exploring in Science- 3rd February 2020
Making cornflour slime
For the start of their science unit about States of Matter, The children in Year 4 enjoyed making cornflour slime or Ooblek as it is affectionately called by the children.
The children discovered that when you pushed down on the slime it felt hard and had the properties of a solid but when it was placed in their hands, it ran freely and acted like a liquid.
The children had lots of fun playing with the Oobleck whilst learning about scientific concepts.
Being Healthy - Wednesday 9th January
Following on from Christmas the children took a look in Mrs Berry's shopping bag which was full of very unhealthy Christmas food! The children helped Mrs Berry to sort the food into those that were healthy and unhealthy.
Year 5 visited Mount Carmel RC High School as part of a Science Enrichment Programme- Tuesday 5th November 2019
"I enjoyed it when we lit the Bunsen burner because when you turned the dial the flame changed colour" - Safa
"I enjoyed looking at the different solids, liquids and gases in the test tubes"- Edie-Rose
"I sorted the images into solids, liquids and gases. Some were a little tricky."- Eryk
Year 5 Science Enrichment at Mount Carmel RC High School- Wednesday 13th November 2019
The Life Education Life Space came to school and we learnt how to be healthy and safe- Tuesday 11th and Wednesday 12th February 2020
"Thank you first of all for a fantastic couple of days. Me and Harold have felt very welcome, meeting lots of happy people who came to do a session in our life education life space. The pupils have been very responsive and the Key Stage 2 pupils remembered the sessions from the past fondly and wanted to see Harold! Take care and see you soon." Steven and Harold the Giraffe.
Year 1 went to visit Manchester Museum of Science and Industry- Tuesday 5th November 2019
Year 4 have been learning about sugar in drinks- Wednesday 20th November 2019