Week 15 - The Very Hungry Caterpillar
Welcome to Week 15 of our distanced learning! Mrs Hands, Mrs Llewellyn and Miss Leeming hope you are well. We miss you very much but we do love seeing what you are learning and doing on Tapestry!
For the next 2 weeks we are going to look at another of my favorite books - The Very Hungry Caterpillar by Eric Carle. Share the story together every day so that your child becomes very familiar with it. Encourage your child to join in with the repeated phrase: "but he was still hungry!"
Below are a few learning ideas for you to do together. Please remember that they are designed to last over this week and next week so don't try to do them all this week! Please upload your activities onto Tapestry. As in previous weeks there are also daily phonics and mathematics activities. Wednesday is our pause day - RE, PSED and PE.
If you have any questions or need any support please contact me through Tapestry or email head@sacredheart-church.lancs.sch.uk and Mrs Welch will pass on your emails to me.
Take care
Mrs Hands.
Life cycle of a butterfly
Guided Reading - Look Out!
Our guided reading picture book this week is another story about Biff, Chip and Kipper and is called 'Look Out!'. In the story, Kipper rides his bike and gets into a bit of a pickle!
Share the book together, looking at and talking about the pictures. Use the questions and prompts on each of the pages.
Friday 3rd July 2020
Phonics (3/7/2020)
Activity 1 - Follow the sound
Play pass the parcel with a sound - either a voice sound or a body percussion sound. If it's just you and your grown-up, see if you can copy the sound made by your grown-up and then swap over.
Activity 2 - Blending
Use the Phonics Play game below to practise blending the sounds in words together to read words. If your child can identify the sounds, let them say each sound and then blend them together to make the word. If your child does not recognise the letters, read each letter sound out and see if they can blend the sounds to make the word.
Mathematics (3/7/2020)
Activity 1 - Making caterpillars
Make some playdough using the recipe sheet in your home learning pack. Add some green food colouring or paint to make your playdough green. Invite your child to make some caterpillars using the playdough.
Ask questions such as:
What will your caterpillar be like? How can you make one?
Tell me about your caterpillar.
How is your caterpillar similar to/different from ...? Which is the longest/ shortest caterpillar? How can you make a longer one? How long is your caterpillar? How can we measure how long it is?
Activity 2 - Minibeast count
Go on a minibeast hunt together and count how many minibeasts you can find.
Here are some tips from the Woodland Trust to help your hunt:
Peek under large stones and logs to find woodland and millipedes.

Peer into the cracks in tree bark and deadwood to find beetles and spiders.

Poke your nose into long grass to see ants and grasshoppers.

Look closely at leaves to discover caterpillars and ladybirds.

Keep your eyes peeled after rain – can you spot slugs, sn

ails and worms.
You could use the sheet below if you like. Instead of ticking the minibeasts you see, count how many you see and either make marks such as lines to show how many or try to write the numeral to show how many of each minibeast you saw. Have fun!
Thursday 2nd July 2020
Activity 1 - Letter Recognition
Play the game 'Grab a Giggling Grapheme' to practise recognising the letters we have explored so far. Choose only the fist 2 options.
Phonics Play username: march20
Password: home
If clicking on the image does not take you to the game, go to phonicsplay.co.uk and log in and then select the game.
Activity 2 - Rhyming words
This game is called 'one one out'. Look at the strip of 4 pictures, saying the names of the pictures together. Can your child spot the one that does not rhyme and is the odd one out?
Mathematics

(2/7/2020)
Activity 1 - Number recognition
Practise recognising numerals to 10 using the numbers below or by making simple number cards and using them as flashcards.
Activity 2 - Repeating Patterns
Today we will revisit repeating patterns. Look back to Week 12 (Thursday) if you need more of a recap.
Look at the caterpillars below and talk about the repeating pattern. What would be the next colour?
Now play the interactive game below - select the 'String of Beads' activity and then level 1.
Then complete the repeating pattern caterpillar sheet below.
Wednesday 1st July 2020
PSED (1/7/2020)
The Very Hungry Caterpillar was very hungry and ate through lots of different types of food. Can you remember what he ate? What are your favourite things to eat? Have you eaten any of the food the Hungry Caterpillar has eaten?
The Hungry Caterpillar eats fruit which is healthy. He also eats chocolate cake and a lollipop which is not as healthy. We talked about healthy and unhealthy food during our 'taking care of ourselves' week. Some food is good for us and we can eat lots of it - we call this healthy food. Some food is fatty and sugary and we should only have a little bit - we call this unhealthy food.
Look at the pictures below with your grown up. Can you decide which food we should eat lots of and which food we should only have a little of?
With your grown up, look in your cupboards and fridge. Can you find some healthy food? Can you find some unhealthy food?
P.E. (1/7/2020)
Join in with The Very Hungry Caterpillar yoga adventure with Cosmic Kids.
R.E. (1/7/2020)
The Very Hungry Caterpillar was very hungry. Today's Bible story is about some very hungry people! Lots of people had come to listen to Jesus. It was soon tea-time and there was no food! Jesus's friends didn't know what to do so they asked Jesus. Watch the story to find out what happened.
Listen and join in with our worship song:
Tuesday 30th June 2020
Phonics (30/6/2020)
Activity 1 - Springtime Sounds
Can you match these animals with the noises they make.
Activity 2 - Initial Sounds
What sound does pear begin with? Find other foods in the story that begin with the same sound as pear. Can you think of anything else which starts with the same sound?
Mathematics (30/6/2020)
Activity 1 - Talking together
There are lots of circles in our book this week! Look at the activity below from White Rose Maths.
Activity 2 - Circle Art
Eric Carle used circles in his book. Some artists also use circles in their pictures. Explore the activity below. Send me pictures of your shape art on Tapestry!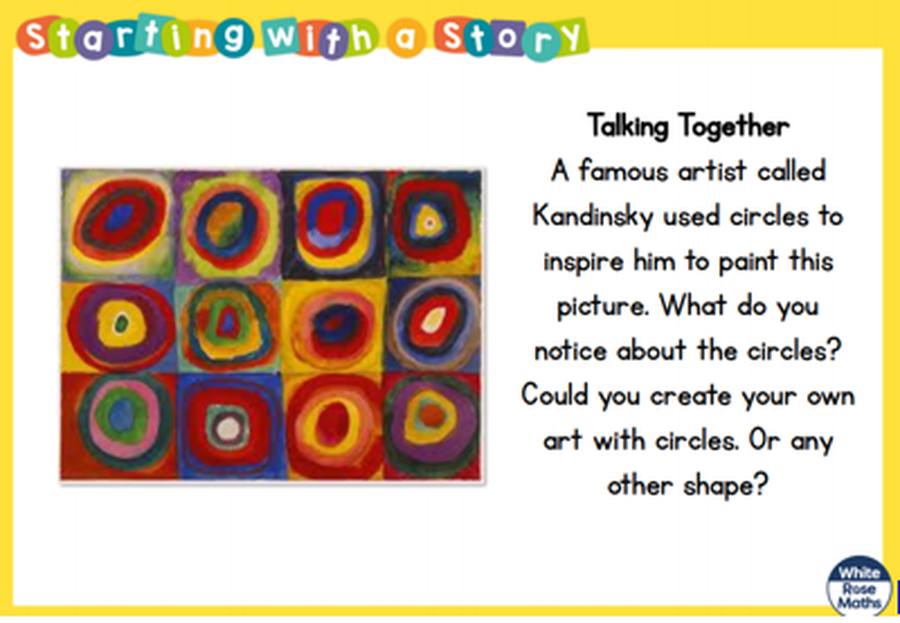 Monday 29th June 2020
Phonics (29/6/2020)
Join Geraldine as we explore our new letter of the week - 'g'
When we make the /g/ sound we make sure it is short rather than saying a long 'guh' sound. We make an action using our hand as if water is gurgling down the plughole.
Try the activity below. Can you spy anything beginning with /g/?
Look for things that begin with the /g/ sound around your home or while you are out for a walk.
Mathematics (29/6/2020)
Activity 1 - Counting
Watch the clip and join in to count how many pieces of food the Very Hungry Caterpillar is eating for his dinner.
Adults, please note, it may be useful to pause the video to allow your child time to count. You could also add a challenge by having number cards written for your child to select the correct numeral to match the quantity.
Activity 2 - Number game
Click on the image to play the game.