Week 7 - Jack and the Beanstalk
Our story this week is Jack and the Beanstalk.
Share the story together every day - this helps your child to become really familiar with the story and they will begin to join in with the words.
Below is a topic grid for Jack and the Beanstalk which will cover this week and next week. The ebook mentioned in the grid is below. In addition to our topic grid there is a grid with some lovely ideas to develop your child's Communication and Language skills whilst you are at home together. Feel free to complete any tasks on the grids that interests you and your child.
Please upload your learning to Tapestry so I can see what you have been doing!
Thursday 7th May 2020
Phonics (7/5/20)
Activity - Follow the sound
This game is a bit like 'pass the parcel' but with body sounds instead! We play this a lot in Nursery so your child should be familiar with it.
Ask everyone at home to sit in a circle. One person starts to make a sound which is then 'passed' to the person sitting next to them. The sound is passed around the circle until it returns to the person who started. Repeat with someone else starting. Sounds could be clap, clap clap or stamp stamp. You can make it trickier by doing a simple sequence of sounds to be passed round (e.g. clap, stamp, clap).
Mathematics (7/5/20)
Look at the picture of the shape castle.
What shapes can you see? Talk about the different shapes, encouraging your child to name them. How many triangles can you see? How many squares? How many ovals?
Challenge - draw your own shape castle. Colour in the different shapes in different colours. How many of each shape have you used?
Wednesday 6th May 2020
Worship (6/5/20)
May is the month of Mary. Mary is Jesus's Mother.
In May we say the Hail Mary every day. Try this with your child.
P.E. (6/5/20)
Join Andy in another wild workout. Today we are in the Rainforest!
Before you click on Andy's picture, do the Sticky Kids warm up - Wiggles and Jiggles. Click on the Sticky Kids picture for the music.
Tuesday 5th May 2020
Phonics (5/5/20)
This week we are exploring the sound and letter 't'. Re-watch Geraldine as she looks for things around her house beginning with 't'.
Today we are going to continue to explore the /t/ sound. If you have an iphone or an ipad you can download an app called 'PhonicBursts (satpinmd)' by Anna Lucas (see image below).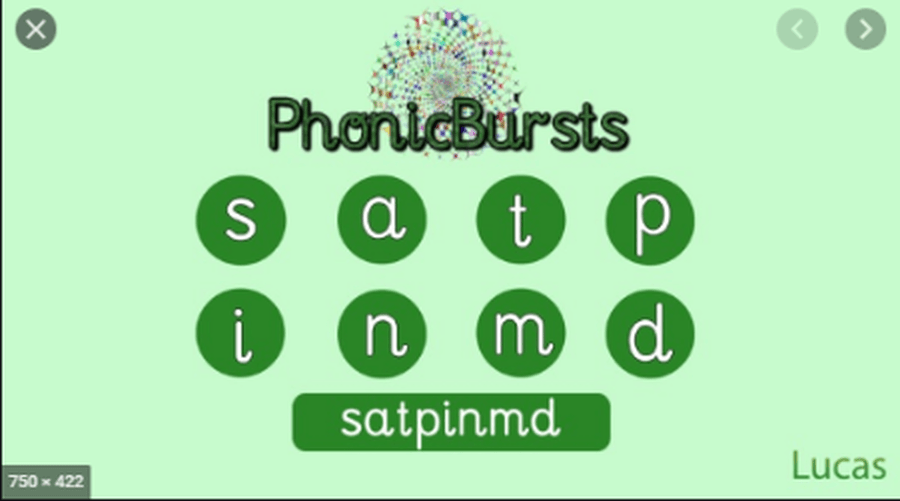 Log into Phonics Play and play the Super Smoothie game to practise hearing the initial sound in a word.
Username: march20
Password: home
Mathematics (5/5/20)
Today we are going to focus on 2D or 'flat' shapes. Your child needs to practise recognising shapes and noticing some of the properties such as the number of sides the shape has.
Use the 2D shape sheet in your home learning pack to recap 2D shapes and then play the game 'Shape Monsters' on the Topmarks website (click on the picture for the link).
Remember to revisit our number of the week (6) throughout the week. Revisit the NumberBlocks episode and play counting games or make counting collections.
Monday 4th May 2020
Phonics (4/5/20)
Watch Geraldine Giraffe as she explores the letter 't'.
In the clip Geraldine looks for things beginning with 't' around her house. Can you go on a hunt around your house for things beginning with 't'? What did you find? Use the things you found to make 'Silly Soup'. Parents, your children will be familiar with Silly Soup as we often do this activity in Nursery. You will need a large bowl and a wooden spoon. Add an object at a time, stir up the 'soup' and sing the song:
'I'm making lots of silly soup,
I'm making soup that's silly,
I'm going to cook it in the fridge,
To make it nice and chilly!'
For a demonstration look at the link in Week 5.
Mathematics (4/5/20)
Watch Numberblocks to begin to explore number 6.
Go on a number 6 hunt around your house or while you are on your daily walk.
Then make collections of 6 objects - 6 teddies, 6 cups, 6 biscuits and so on. Count the objects carefully. Can you say how many you have?
Can you do 6 jumps, spins, claps or stamps?
Now practise representing 6 using your fingers, pictures or marks on paper. Have a go at writing the numeral using the rhyme below. You can write it in sand, flour, using chalk or water on the ground or on paper.