Week 5 (20/4/20)
This week we begin our topic looking at Traditional Tales. We will begin looking at 'The Three Billy Goats Gruff'. Share the story together every day - this helps your child to become really familiar with the story and they will begin to join in with the words. If you have a copy of the book, you can use that. Otherwise, use the You Tube link on the topic web to watch the story.
There will be daily Phonics and Maths activities, and also a topic grid which will give you activities you can do for this week and next week. In Phonics we will begin to explore a letter a week, beginning with 's', as well as doing other activities. Your child will meet Geraldine Giraffe who will introduce the letters. In Maths we will continue to explore a number a week using Numberblocks. This week is number 4.
Please upload your learning to Tapestry so I can see what you have been doing!
Friday 24th April 2020
Phonics (24/4/20)
Practise your voice sounds today using the picture cards below or using the You Tube video (click here for the link).
Mathematics (24/4/20)
Yesterday we used positional words such as 'behind', 'next to' and 'on top' to talk about where the Teddy was. Watch the 'Where's the Monkey' song below and then do the activity (explained below).
Activity - On the Train
Use chairs or cushions to make a pretend train (or bus). Use your teddies or ask people in your family to join you on the train. Talk about the position you are sitting in. For example, 'Mummy is sitting behind me' or teddy is sitting next to dolly'. Move places and talk about your new position. You could add some music to make it fun - move around while the music plays and when the music stops sit down in a seat.
Thursday 23rd April 2020
Phonics (23/4/20)
Today we are going to continue to explore the /s/ sound. If you have an iphone or a ipad you can download an app called 'PhonicBursts (satpinmd)' by Anna Lucas (see image below).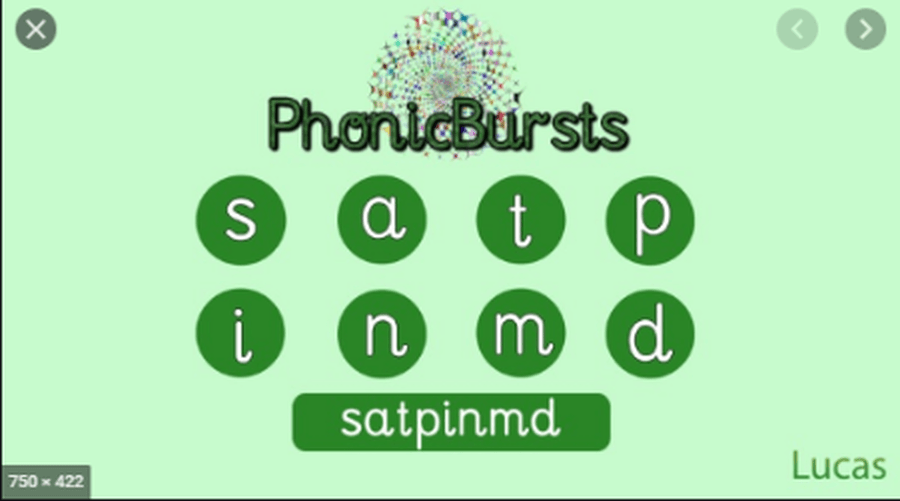 If you don't have an iphone, have a look at the activity on the Education City website by clicking on the image below. Your log in details are as follows:
Username: SacredHeartRCPrimarySchool10
Password: PYm5AR
You may need to download Adobe Flash Player.
Mathematics (23/4/20)
Look at the picture.
The Troll is under the bridge. The Goats are on top of the bridge. 'Under' and 'on top' are words to describe the position of something. Look at the pictures of the teddy and table below (or use your own teddy and table). Ask you child to point to the picture which shows the teddy in different places (e.g. next to the table). Then, ask your child to tell you where the teddy is using positional words.
Wednesday 22nd April 2020
Worship (22/4/20)
Today we are going to hear the story about Daniel, a brave young man who chose to do the right thing. The King wanted everyone to say they loved a statue, but Daniel loved God and would only say he loved God. The King threw Daniel into a den full of roaring lions. But God was with Daniel and kept him safe. Click on the picture below to hear the story, then sing the song 'Our God is a great big God' (also below) and then say the prayer together.
Make the sign of the cross before saying the prayer together:
From my head to my heart, from my shoulder to my shoulder, I belong to you, O God.
Father God, thank you for keeping Daniel safe when he was with the roaring lions. Thank you that you are a great big God who can keep us safe and look after us. Help us to be brave. Amen.
P.E. (22/4/20)
Join Andy in another wild workout. Today we are at the beach! Before you click on Andy's picture, do the Sticky Kids warm up - Let's Go Walking. Click on the Sticky Kids picture for the music. Your children are used to this warm up!
Tuesday 21st April 2020
Phonics (21/4/20)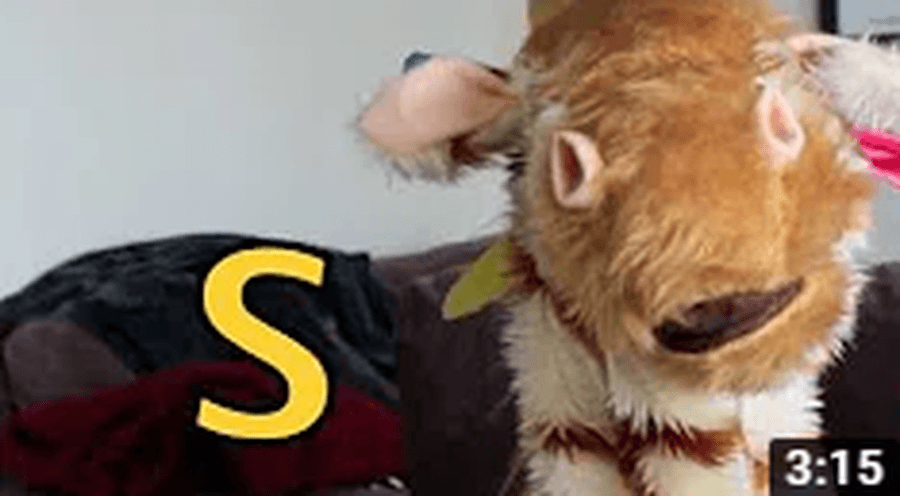 Yesterday we watched Geraldine Giraffe as she explored the /s/ sound and letter. Re-watch the clip by clicking here. Can you go on a hunt around your house for things beginning with /s/? What can you find? Use the things you find to make 'Silly Soup'. Parents, your children will be familiar with Silly Soup as we often do this activity in Nursery. You will need a large bowl and a wooden spoon. Add an object at a time, stir up the 'soup' and sing the song:
'I'm making lots of silly soup, I'm making soup that's silly, I'm going to cook it in the fridge, To make it nice and chilly!'
Add the other objects, listing what is already in the soup. For a demonstration click here.
Mathematics (21/4/20)
Continue to explore number 4. Re-watch the Numberblocks episode by clicking on the image below. Then make collections of 4 objects - 4 cars, 4 pennies, 4 socks, 4 spoons and so on. Count the objects carefully. Can you say how many you have?
Now practise representing 4 using your fingers, pictures or marks on paper or having a go at writing the numeral using the rhyme below. You can write it in sand, flour, using chalk or water on the ground or on paper.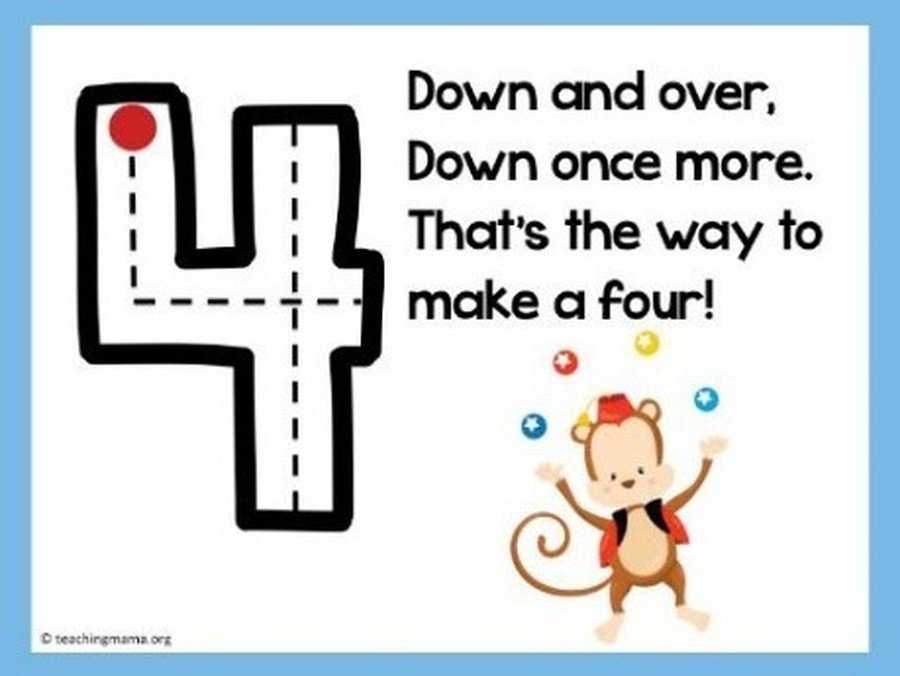 Monday 20th April 2020
Phonics (20/4/20)
Watch Geraldine Giraffe as she explores the letter /s/. Your child will now begin linking sounds of letters (phonemes) to the actual letters (graphemes).
Mathematics (20/4/20)
Watch Numberblocks to begin to explore number 4. Go on a number 4 hunt around your house or while you are on your daily walk.