Week 2 (Week beginning 30th March 2020)
I can't quite believe it's only been one week since we were all together in Nursery. I miss you all very much, and hope you are keeping busy and having lots of fun at home.
Last week we learnt about the life cycle of a frog - how it changes from frogspawn to a tadpole to a frog. This week we will begin to focus on the life cycle of a duck. Our eggs will be going into an incubator and we will watch them over the next few weeks.
Parents, please upload your child's learning on to Tapestry so I can share in it too. Any questions you have, please feel free to ask through Tapestry or to email Mrs Welch or the Bursar who will forward the email onto me.
I came across this article which I found really useful - have a look if you get chance:
https://famly.co/blog/covid-19/parents-eyfs-home/
Mrs Hands.
Key vocabulary:
Life cycle
Grow
Duck
Lay
Egg
Hatch
Incubator
Incubate
Ducklng
This week's story:
This week we are listening to a story called 'Farmer Duck' by Martin Wadell and Helen Oxenbury.
Listen to it every day, your child will begin to join in with some of the repeated phrases.
This week's songs:
Join in and sing/say them each day to become familiar with them.
Spring Chicken is one of my children's favourites, I hope you have fun singing and dancing to it!
https://www.youtube.com/watch?v=IEey4LZLeGw
For some ideas of actions, look at the following link:
https://www.youtube.com/watch?v=1mi0dN5a_r8
Our second rhyme is a spoken rhyme called '10 Little Chicks'. See below.
Some of our learning this week
This pupil has been learning about shapes!
Friday
Topic (3/4/20)
Mrs Llewellyn sent us these photos of our duck eggs in the incubator. Can you count how many eggs there are? What will hatch from the eggs? Who laid the eggs? Why are they in the incubator? What does the incubator do? Can you remember how long it will take until the eggs hatch?
Activity
Match the baby animals to their grown-ups. Can you name the animals? Do you know what the baby animals are called? Can you use the internet to find any more pictures of animals and their babies?
Phonics and Literacy (3/4/20)
We're going to continue to practise our listening skills today.
Activity 1
Make a collection of noise makers. Think about things around your house that make sounds (for example, a bunch of keys, a crisp packet, a wooden spoon banging against a pan). Play a game where you hide the object and see if someone else can guess what is making the sound.
Activity 2
Play 'I hear with my little ear!' Take it in turns imitate the sound of something and guess what makes that sound. You could imitate the sound of things you found around the house like a ticking clock or a telephone. You could make animal sounds for the other person to guess.
Mathematics (3/4/20)
Today we are thinking about words that we use to describe the position of something. We use words like under, next to, on top, behind, in front of. Look at the pictures of the chicks. Can you use positional language to say where the chick is?
Now play a game of hide and seek. When you find each other describe where they were hiding. For example, "you were hiding behind the door."
Thursday
Topic (2/4/20)
Ducks live near water and enjoy swimming in the water. Ask your grown-up to fill up a washing up bowl and let you play in the water today. Put the bowl on the floor and have a towel nearby!
You can use plastic cups and bowls, different sized spoons. Do you have any plastic ducks in the bathroom? Use them and watch them float. What else can you find that floats? What can you find that sinks to the bottom of the washing up bowl? Why don't you wash your dollies or toys? Ask your grown-up to add some bubbles to the water.
Phonics and Literacy (2/4/20)
Play I Spy with the farm animals, encouraging your child to hear and say the initial (or first) sound in a word.
Mathematics (2/4/20)
Our number of the week is number 2. Watch Numberblocks Number 2 on the following link:
https://www.youtube.com/watch?v=JCUGLyVkMlM
Show 2 using your fingers, marks or pictures (we have done this lots in Nursery so your child should remember what to do).
Have a go at writing the numeral 2 using the number formation rhyme below. Remember to upload any photos of your learning to Tapestry!
Wednesday
Worship (1/4/20)
On Wednesdays in Nursery we start our time together with Worship. We have been on a journey through the book of Matthew in the Bible. In our last Worship time, we heard the story of how Jesus welcomes the little children to Him. We were reminded that God loves us and that we are precious to Him. The children placed their photo around a picture of Jesus in response.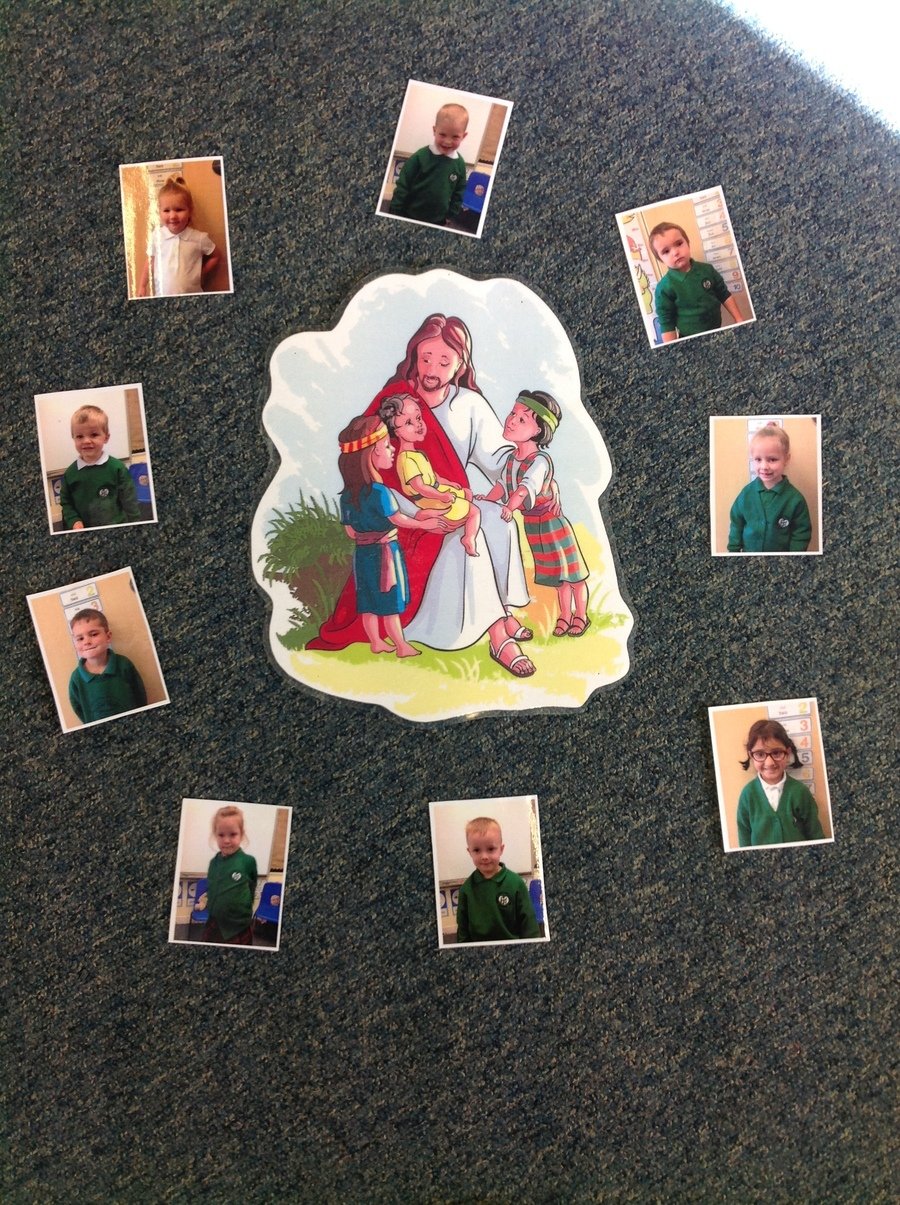 Today I would like to share with you the Parable of the Lost Sheep from Matthew 18.
In today's story we hear how Jesus is like a Shepherd, someone who looks after sheep. Jesus cares about each one of us and will look for us if we are lost so we can be part of His family.
Watch the story by following the link here.
Join in and sing our favourite song - 'Our God is a great big God'. Can you remember the actions?
https://www.youtube.com/watch?v=xIqEDBPlBVo
P.E. (1/4/20)
Wednesday would usually be our PE day so why not join Andy for a wild workout! Click here to go on an adventure Under the Sea.
Tuesday
Topic (
31/3/20)
Yesterday I went on a walk along the canal. I saw ducks, geese and swans.
I spotted a swan sitting on her nest on the bank of the canal. She was sitting on her eggs. Can you see her in the picture below? She's hiding!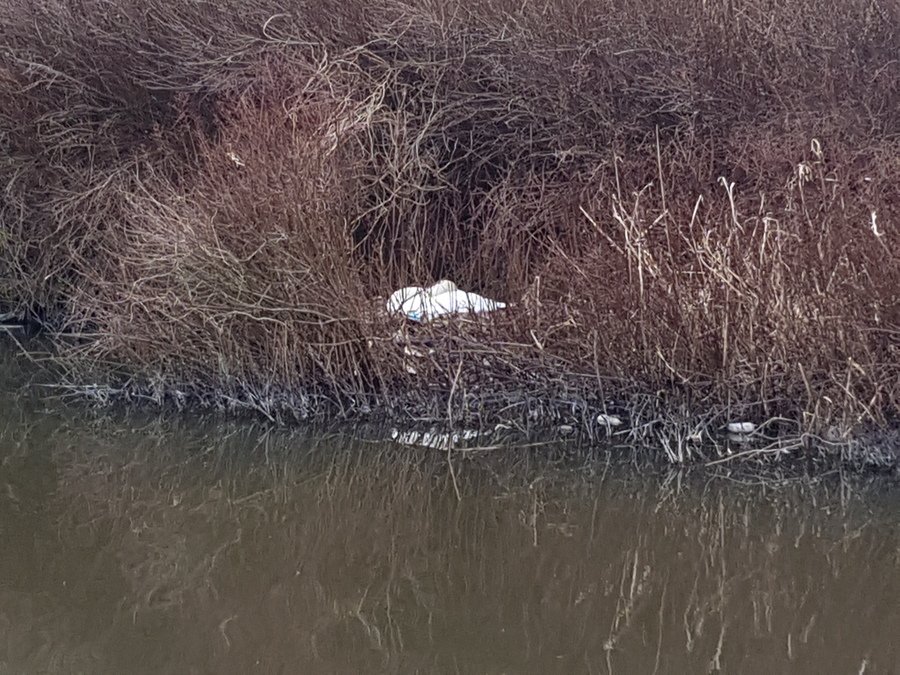 I wonder what a swan's eggs look like. Ask your grown-up to help you to use Google to find out about swan's eggs. Can you also look at other types of eggs - quails eggs, chicken's eggs, ostrich eggs, goose eggs? Are they all the same? Are they different?
Ask your grown-up if you can go to the canal together to look at the ducks. Post your photographs on Tapestry.
Phonics and Literacy (31/3/20)
A listening moment
Remind your child how to be a good listener - keep quiet, have their eyes and ears ready.
Either inside or outside, invite your child to listen for a moment. The 'listening moment' can last however long is suitable for your child. If your child finds it difficult, you could suggest they closed their eyes.
When they have finished listening, ask them what sounds they heard. Ask them what made the sound and encourage them to try to make the sound themselves. Tell me what sounds you heard on Tapestry.
Focusing on listening to sounds will help children to use the skills that are needed for developing an awareness and understanding of phonics.
Mathematics (31/3/20)
Our number of the week is number 2. Watch Numberblocks Number 2 on the following link:
https://www.youtube.com/watch?v=JCUGLyVkMlM
Go on a number 2 hunt around your home or when you go out for a walk with your family today.
Monday
Topic - Ducks (30/3/20)
Look at the picture of the duck. Ducks lay eggs, can you see the picture of the duck's eggs? They are similar to chicken's eggs but they are whiter and a bit bigger. What do you know about ducks? How do they move? Where do they live? What are baby ducks called? Tell you grown-up what you know.
When a mummy duck lays her eggs she sits on them to keep them warm. This is called 'incubation'. After about 28 days the eggs will hatch and baby ducks or 'ducklings' will come out of them. Look at the picture of the life cycle of a duck and talk about it with your grown-up.
The mummy duck lays an egg. The egg is incubated or kept warm for 28 days. The egg hatches and a duckling comes out. The duckling grows into a duck.
Mrs Llewellyn has got some duck eggs which we are going to look after and hatch together. We will use a machine called an 'incubator' to keep our eggs warm for 28 days. Here is a picture of the incubator which Mrs Llewellyn is looking after: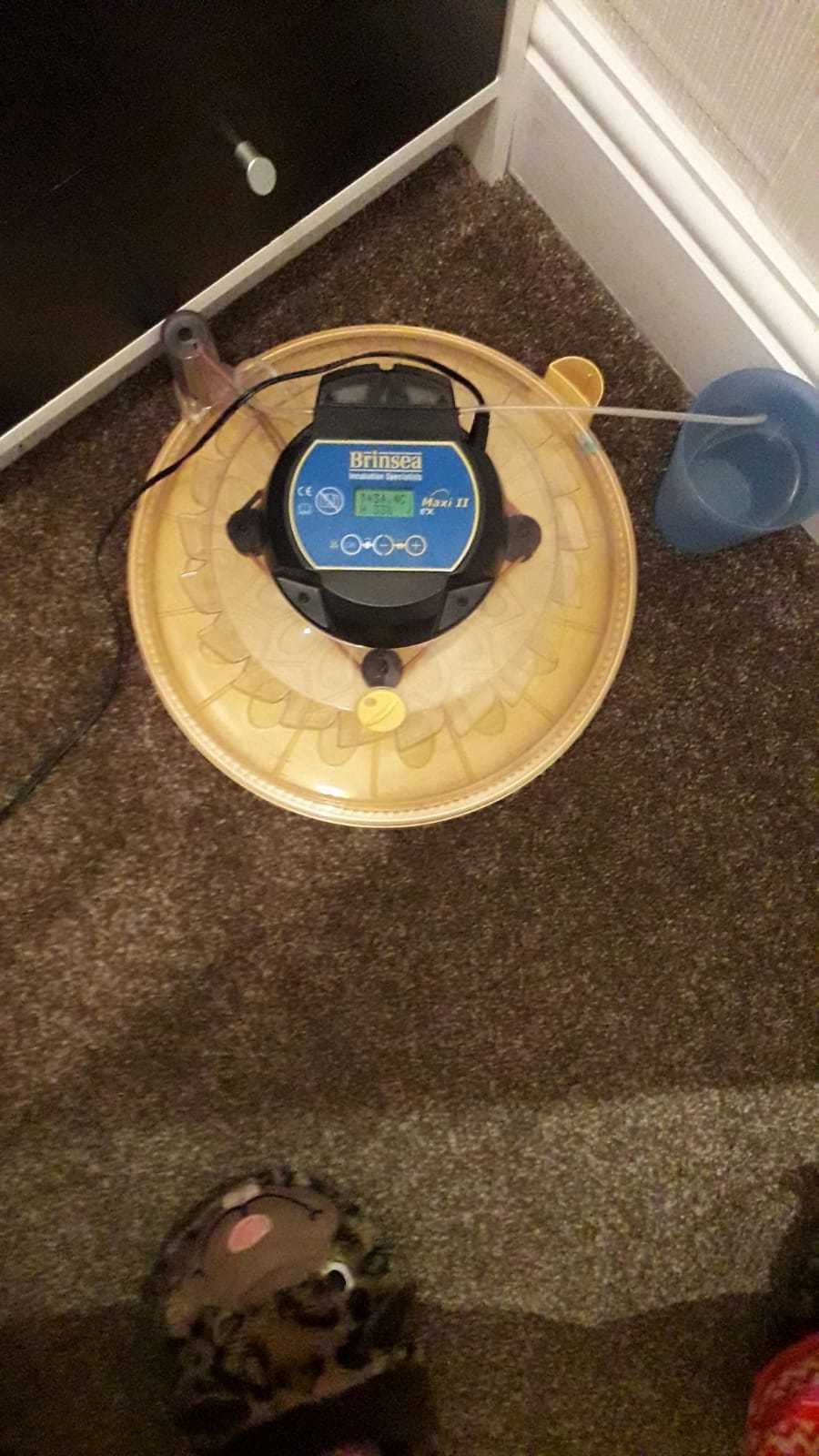 Phonics and Literacy (27/3/20)
For parents!
Today we are going to explore words that rhyme. Rhyming words are words that have the same sound at the end, for example, cat and bat or snake and cake. Learning to recognise rhyming words is an important early pre-reading skill. There are 3 stages of learning to rhyme:
Hearing rhyme - it is important that your child gets used to hearing and repeating rhyming words. This is why we sing nursery rhymes! It is also important that we share rhyming stories with our children (like our book of the week 'Oi Frog').

Recognising rhyme - your child will begin to identify two words that rhyme.

Producing rhyme - your child will begin to think of words that rhyme with another and create their own 'rhyming string'.
Please don't worry if your child struggles with today's activity. Recognising rhyming words needs a lot of repetition and practise.
Activity
Look at the pictures below. Can you see the egg? We're going to look for words that rhyme with egg. Which of the words rhyme with egg?
Parents - Your child may find it easier if you say pairs of words, for example, "egg/peg - do they rhyme?" Alternatively you can ask your child to find the word that is the odd one out (does not rhyme with egg).
Mathematics (30/3/20)
Our number of the week is number 2. Watch Numberblocks Number 2 on the following link:
https://www.youtube.com/watch?v=JCUGLyVkMlM
Make a collection of 2 objects. For example, 2 cars, 2 pennies, 2 pieces of pasta, 2 stones. Do 2 jumps, 2 claps, 2 spins.