Distanced Learning
Welcome to our distanced learning page! I hope you enjoy doing the activities together. Each day I will add new activities, but please remember that there are lots of activities and ideas in the pack you received from school, and there are also lots of fantastic websites which will help your child to continue to learn. In addition, here are some things you could do daily:
Keep active! Join Joe Wicks for his PE session on Monday, Wednesday and Saturday mornings at 9 a.m. on You Tube (see below). Go for walks, play with a ball, create an indoor or an outdoor obstacle course or try dance or yoga activities on You Tube designed for young children.

Say a prayer together. Pray for your child's family and friends. Say thank you to God for the good things He has done.

Play together - make believe, teddy tea parties or simple board games. Enjoy each other!

Look at books (there are lots on-line).

Draw, colour and practise writing your name. Encourage (but don't force) a correct pencil grip - we call this a tripod pencil grip.

At bedtime, talk about your day. Ask your child what their favourite part has been. Consider keeping a list of things you and your child are grateful for each day - this can help us to remember that there are good and enjoyable things still despite all the uncertainty.
Learning through play
See the image below for examples of learning through play. I will upload a picture each week or you can follow the Facebook or Instagram link at the bottom of the page.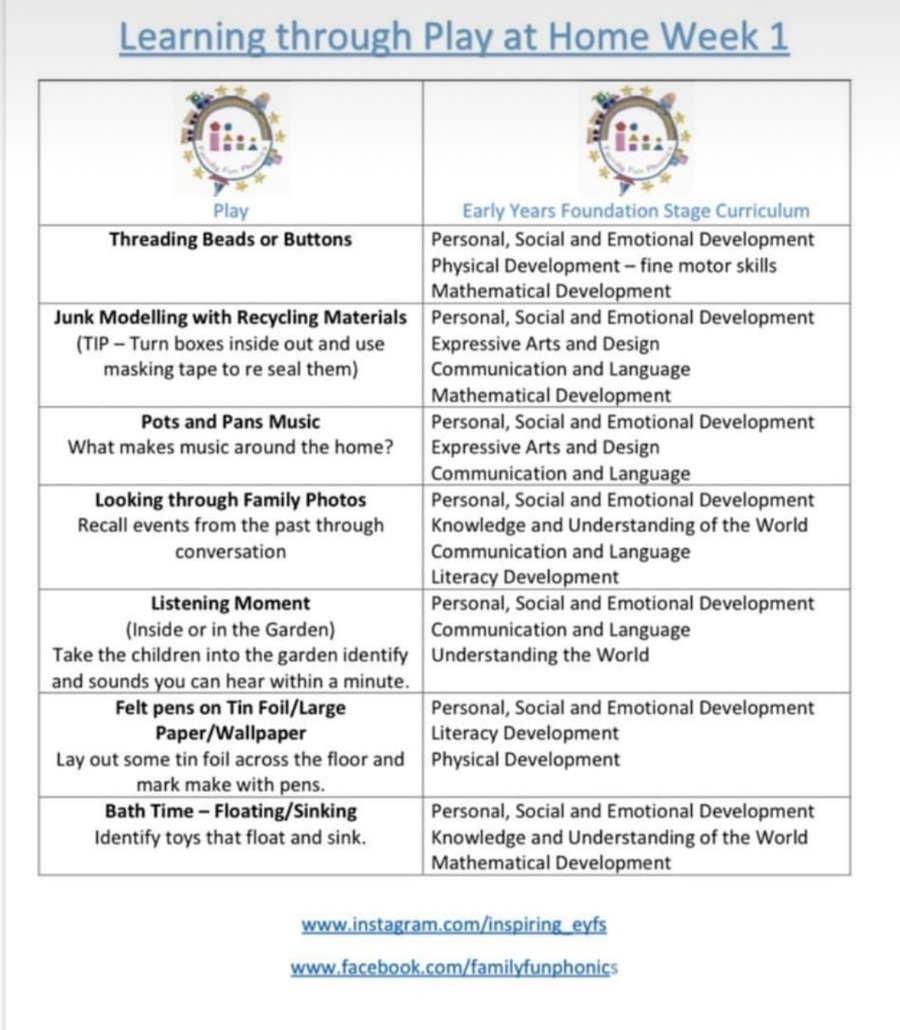 Discovery Education Espresso Pupils At Home – Free Access
BTLS Education Service are delighted to announce that Discovery Education are offering all of its customers that purchase the Espresso Standard service via BTLS, free access to the Discovery Espresso Pupil At Home Service as well until at least the end May 2020, while schools are closed due to the Coronavirus outbreak.
How to Access the Service…
Pupils in your school can access the service at:
https://www.discoveryeducation.co.uk/what-we-offer/discovery-education-espresso

Pupils simply need to click the login box (top right of screen), choose Espresso and enter the
following username and password provided for your school:

Username: student17954
Generic School Password: discovery2020