Spring 2
Anglo Saxons
Our history topic for this half term is 'The Anglo Saxons'. The child have learnt how the Anglo Saxons invaded England from Denmark, The Netherlands and Northern Germany. They have planned out an Anglo Saxon settlement and learnt how many of our place names have Anglo Saxon origins.
Trip to MOSI
This week, Year 4 went on a trip to MOSI in Manchester. The children watched a science show about electricity, called 'Circuit City' in which they learnt about insulators and conductors. In the afternoon, the children were allowed to explore the museum and even had the opportunity to watch a steam train in motion.
Lenten Charity Fund Raising
During the season of Lent, the children in Year 4 have been raising money for Maundy Grange and St Mary's Church. So far, the children have raised £48 by holding a very popular cake sale. The children are currently holding a guess how many sweets in the jar and penalty shoot out during break times. This Friday, the children will raise money by wearing their pyjamas to school. Look out for photos, coming soon...
The Iron Man
Over the next few weeks, the children in year 4 are reading, 'The Iron Man' By Ted Hughes. So far, the children have read the first two chapters and have been looking for examples of expanded noun phrases and similes. Yesterday, the children acted out a scene from the book and today the children have written newspaper reports as though they were a character from the book.
Pyjama Day
To raise money for our Lenten charity, Maundy Grange, the children came to school dressed in their pyjamas. Thank you to all the parents for allowing their children to join in and raise money for this worthy cause.Below is a picture taken earlier today.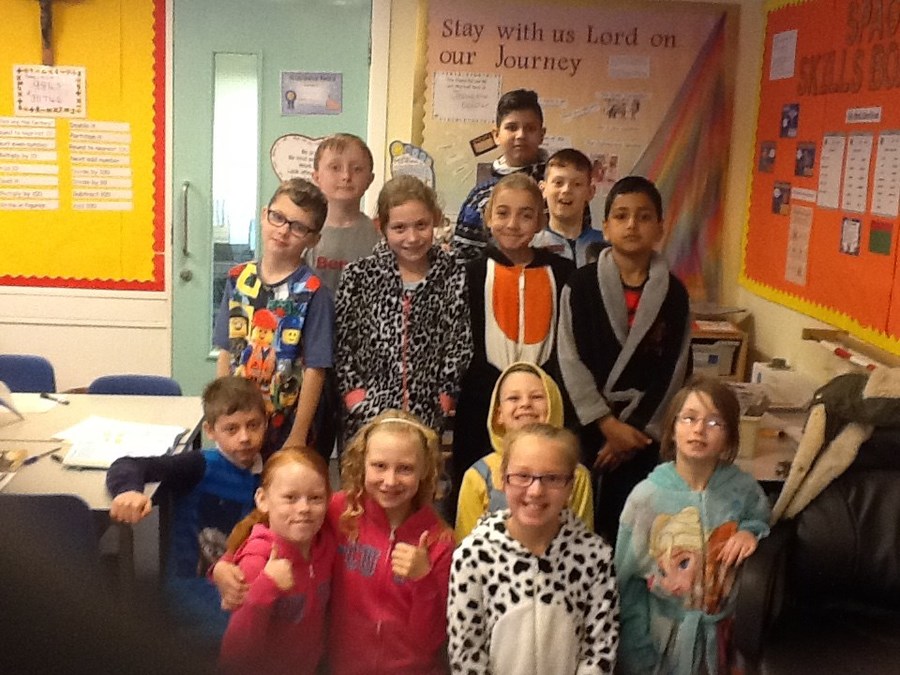 Year 4 dance
As part of our Easter celebration assembly, the girls from year 4 choreographed their own dance. The children performed the dance today and were absolutely fabulous!
Anglo Saxon brooches
As part of our class topic on the Anglo Saxons, the children have been making their own versions of an Anglo Saxon brooch. The children studied various Anglo Saxon brooches before designing their own. The children then formed their brooch using salt dough. Once the dough had dried, the children painted their brooches. Below are some photos taken during the designing, forming and painting process. Watch out next week for photos of the children with their completed brooches.