Summer 1 2017
Welcome back after our Easter holidays. This half term we will be reading traditional tales. Please click here for our newsletter and curriculum overview.
Week beginning 22nd May
Our final book this half term is Jack and the Beanstalk. After listening to the story we talked about how bean plants grow and we planted some beans of our own. Some of the children wondered if there bean stalk would grow as tall as the one in the story!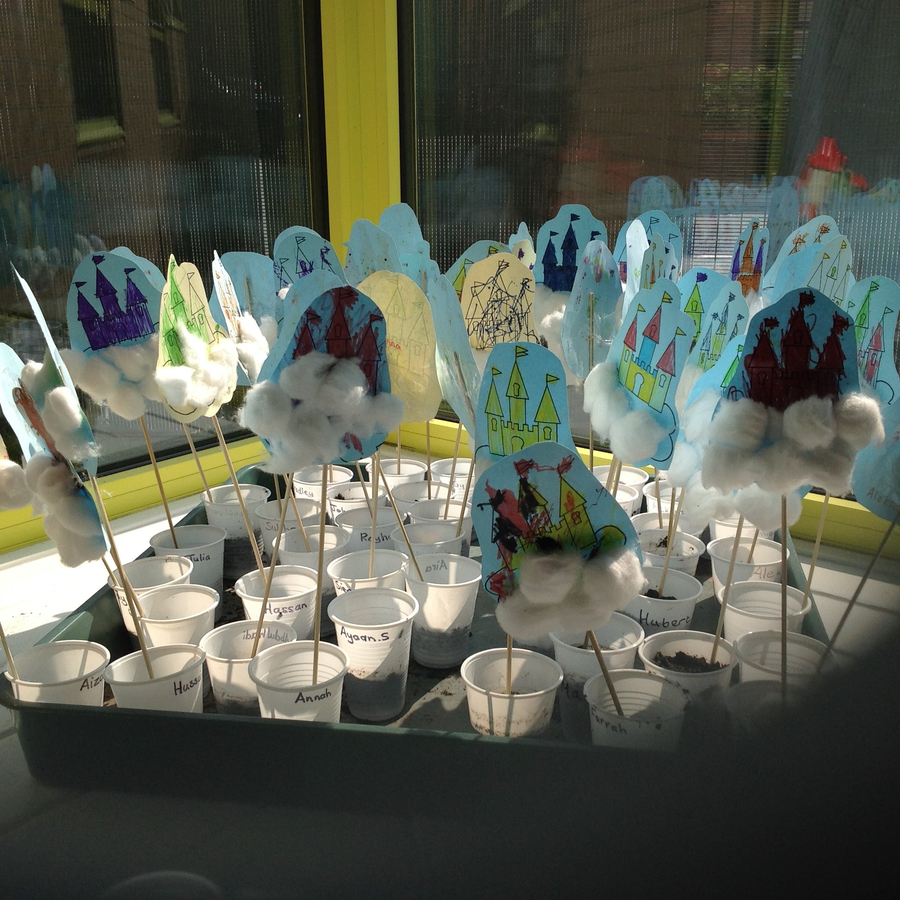 In PE we used a piece of music called 'In the Hall of the Mountain King' by Edward Grieg. As we listened to it, we imagined Jack climbing the beanstalk and tip-toeing around the Giant's castle, then being chased by the Giant and finally Mum using the axe to chop down the beanstalk. We moved our bodies in response to the music.
We are still waiting for our chicks to hatch. We now think that they will hatch at the beginning of the half term holiday - please keep an eye out on the website for updates! Mrs Llewellyn brought some ducklings in from her allotment for us to meet - the children were so excited and said they were "cute", "small", and "fluffy".
Week beginning 15th May
This week we have been reading 'Goldilocks and the Three Bears'. Our sand tray was filled with oats and our home corner became the Three Bears' Cottage.
Week beginning 8th May
Our story this week has been The Little Red Hen. The children enjoyed helping to tell the story using headbands.
We baked bread like the Little Red Hen. But this time everyone helped! The bread was delicious and we enjoyed sitting outside in the sunshine to eat it.
Our shape of the week is a rectangle. As part of our challenge activities for the week some of our children used Velcro lolly pop sticks to make rectangles.
Our chicks are still in the incubator. They will hopefully hatch next week!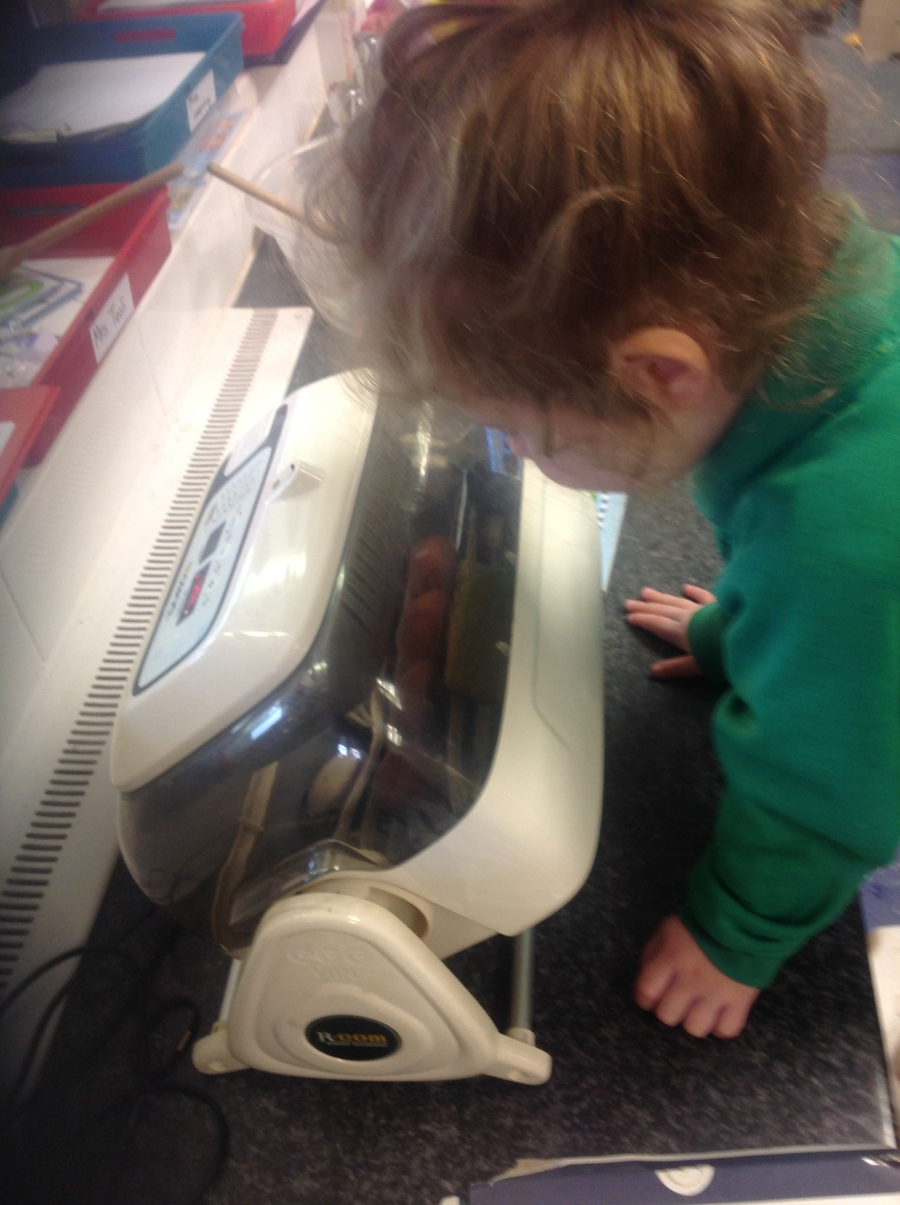 Week beginning 1st May
This week we have read The Three Little Pigs.
We did an investigation to find out what objects we could move with our breath and which would need a stronger force. The children had to predict what would happen and then investigate whether our predictions were correct.
We also did some 'huff puff painting'. We dropped watery paint onto paper using a pipette and then used a straw to blow the paint to create different patterns. We enjoyed watching the colours mix. It was hard work huffing and puffing!
Outside we set up a Three Little Pigs building site.
Mrs Penny Pig wrote to us to tell us how sad she was that her three sons had left home and asked us to paint her some pictures of the Three Little Pigs. Some of our children chose to do this as part of our weekly challenges. They mixed their own pink powder paint and painted a picture for Mrs Penny Pig. She was very grateful!
Week beginning 24th April
Our tale this week has been The Three Billy Goats Gruff. We have used props and headbands to retell the story and the children have been encouraged to join in with the repeated refrains. We all particularly liked being the Troll and shouting, "Who's been trip-trapping over MY bridge?".
The children have been following instructions involving prepositions (such as 'on top', 'in front', 'behind' and 'next to'), as well as using positional language to talk about where something is.
Outside we set up an obstacle course involving going over, under and through different apparatus.
Week beginning 17th April
This week we have listened to the story of The Frog Prince. We retold the story through song using props. We mixed our own green paint from yellow and blue to paint frogs. We have learnt about the lifecycle of a frog and welcomed our own tadpoles into nursery.