Spring 2
Welcome back after half term! Our topic is Dinosaurs. We will also be thinking about Mother's Day and Easter during the half term.
Please click here for our newsletter and curriculum overview. Please click here to access some home learning ideas for you to do with your child.
Week beginning 27th March 2017 - Easter and Multi Faith Week
This week we have been learning about God's Wonderful World, and in particular we have been looking at the signs of spring. We made piglets, chicks and lambs. We did observational paintings of daffodils.
It has also been multi-faith week in school. We have done some Indian dancing and made some Rangoli patterns.
We have also been listening to the Easter story. We heard how Jesus washed His disciples feet, and Mrs Hands washed our feet. We coloured in Easter eggs, did some weaving in funky fingers and made chocolate Easter nests. We ate hot cross buns for snack.
Week beginning 20th March 2017
This week we have been thinking about Mummies. We read a book together called 'Why I Love my Mummy' and then the children shared what makes their Mummy special. We made cards for Mother's Day and painted a portrait of Mummy. We matched animal mums and their babies. In the water tray we bathed babies. In our messy tray we had some 'clean mud' which we enjoyed exploring, squidging it through our fingers and moulding with it. On Friday we invited Mummies to a special concert. We sang some of our favourite songs, as well as some special ones we learnt this week. The children were very brave and stood up to say why they love their mummy. We gave our Mums some daffodils and enjoyed cakes and juice.
Our trip to Thornton Hall Farm!
We had a lovely (and wet!) day at the Farm. We saw deer, cows, calves, lambs, donkeys, llamas, pigs, goats and horses. We fed the baby lambs, kids and calves. We enjoyed our tractor ride and saw deer in the field. We also had fun playing in the barn.
Week beginning 13th March 2017
We arrived on Monday to discover that dinosaurs had been in Nursery! We saw their footprints and they had left some dinosaur eggs in a nest for us.
We talked about how we could hatch the eggs and what might be inside. The children had some fantastic ideas! On Wednesday we hatched our eggs. We tried out our suggestions and changed strategy if they didn't work. We loved finding the baby dinosaurs inside!
We enjoyed listening to a story called 'Egg Rescue' in which three dinosaur friends are asked to look after Mrs Rex's egg while she takes a shower. Unfortunately a naughty mammal gets hold of the egg so a chase ensues. When the dinosaurs finally recover the egg, they are sad to find it has broken. Mrs Rex explains that it isn't broken but it is hatching!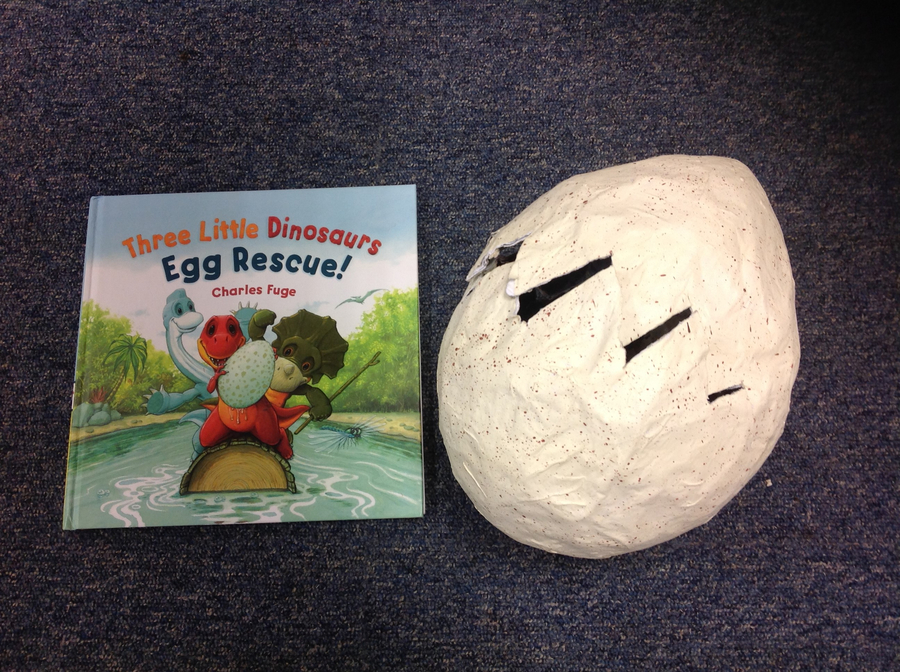 Here are some pictures from other activities this week. We matched 3D shapes. Outside we explored different coloured powder paints.
Week beginning 6th March 2017
We baked and decorated cakes for our Lenten Stall this week. The money we have raised will be going to St Joseph's Penny - thank you to all those who contributed.
We have been following instructions and describing the position of something using positional words such as 'on', 'under', 'next to', 'behind' and 'in front'. We used props and dinosaurs. We also used the superhero obstacle course outside to travel over, under and through things.
In RE we created 'church' in Nursery. We made the sign of the cross together, sang together, read the Bible together and prayed together. The children listened to the story of Jesus inviting the children to come to him.
Week beginning 27th February 2017
This week we continued our Dinosaur topic. We learnt a number rhyme about 'Five Enormous Dinosaurs' and enjoyed acting it out using dinosaur masks.
The children have looked at different dinosaurs - triceratops, T-Rex, stegosaurus, pterodactyl, plesiosaur, velociraptor and diplodocus. We have talked about their different features, such as the three-horned triceratops and the long-necked diplodocus. The children have chosen a dinosaur to paint, looking very carefully at the features.
On Tuesday it was Pancake Day. We made the batter together and then enjoyed eating our pancakes with jam or chocolate sauce - they were very tasty! In the home corner we had frying pans and paper 'pancakes' to toss. We listened to a story about a Runaway Pancake.
On Friday the children and adults dressed up as their favourite book character as part of World Book Day. We had princesses, pirates and Hermione from Harry Potter to name but a few. Look at our fantastic costumes! It was also our Friendly Friday - thank you to all the parents and grandparents who joined us to play.
Finally, here are a few pictures from Funky Fingers and PE.
Week beginning 20th February 2017
This week we have read The Gruffalo and the children enjoyed a special Gruffalo workshop. The children pretended to be different woodland animals and used masks to retell the story. We all enjoyed pretending to be the Gruffalo!
Some of our Funky Fingers from this week....
We began our new topic 'Dinosaurs'. We used words, sounds and actions to tell the story 'We're Going on a Dinosaur Hunt' which is based on the well-known and well-loved story 'We're Going on a Bear Hunt' by Michael Rosen. We have a new dinosaur small world and in the sand we are excavating dinosaur bones.