Spring 1 2017
Welcome back after what we hope was a restful and blessed Christmas break. We would also like to welcome for the first time some new starters - we hope that you settle in quickly and we look forward to getting to know you. Our topic this half term is 'Fruit and Vegetables' and much of our learning will be based on a story called 'Oliver's Vegetables'.
Please click here to read our Spring 1 newsletter and here to view our curriculum overview.
Week beginning 6th February - Art and Literacy Week
This week has been our whole school Art and Literacy Week. For the Art part the children moved around the school to take part in a range of activities - please see the Art and Literacy page under the Learning tab for more details and photographs.
For our Literacy part we looked at the story of 'The Magic Porridge Pot'. The children loved the story, and especially enjoyed watching the porridge pot spill over as we read the story! The children joined in to say, 'Cook, little pot, cook!' and 'Stop, little pot, stop!'. Mrs Hands and some of the children discovered we were magic as well because using magic words such as 'Jump, little children, jump!' we could make the children do different actions! We made our own porridge pots using clay and painted them when they were dry with acrylic paint. We also talked about what we would like inside a magic pot if we could have anything we wanted. The children drew a picture of what they would like - ideas ranged from flowers to motorbikes to sweets! Inside we played with wet and dry oats. Outside we played with the potion station. At the end of the week we made porridge and enjoyed eating it. Thankfully our porridge pot didn't bubble over and make too much of a mess! Here are some of the pictures from our week.
Week beginning 30th January
This week we have been reading the story of The Enormous Turnip. The children loved using masks to act out the story, and most of the children could join in with the words and actions. In a maths activity the children sorted turnips according to size for the little old man in the story. We also planted some vegetables of our own in the Nursery outdoor area. The children explored balances and talked about things that are heavy and light.
The children explored pushing and pulling using magnets and also outside, rolling hoops and tyres.
On Friday we enjoyed a visit from the poet Andy Tooze to prepare us for our Art and Literacy week next week. He shared some of his poems from his book. He was very funny!
Week beginning 23rd January
It's been a busy week in Nursery! We started off our week making Oliver's Vegetable Soup using some of the vegetables Grandpa grew in his vegetable patch. The children helped to prepare and chop up the vegetables. When it was cooked we tasted it - some of us thought it was very nice but some of us didn't like it!
Our number rhyme this week has been '5 Currant Buns'. In the maths area the children used dice to decide how many 'currants' to put on their bun. The children wanted to make some currant buns ready for our Friendly Friday. They were very tasty!
Outside we have enjoyed playing in our role-play garage. We used tools to fix the cars, filled up petrol and checked things off on our MOT checklist.
We also enjoyed splashing in the puddles!
On Friday we welcomed our parents into Nursery as part of our Friendly Friday. We used the opportunity to celebrate all we do in Nursery. We made invitations and the children talked about what they would like to do for their parents. We decided to put up balloons, make currant buns and perform one of our favourite songs. Thank you very much to all the parents who came - it was a great turn out and we enjoyed having you with us!
Here are some pictures of our Funky Fingers activities this week.
Week beginning 16th January
This week some of our older children walked to Lidl. We wrote a shopping list and bought some items to go in our role-play shop back at Nursery. We also had an 'I Spy' checklist - we looked out for the things on the list and ticked them off when we found them.
When we returned to Nursery we set up our own Lidl shop and took it in turns to be the customer and the shop keeper.
We also enjoyed a visit from the Life Bus. We met Harold the Giraffe who helped us learn about keeping healthy and looking after our bodies. The children helped to comb Harold's hair, wash his face and brush his teeth. We sang 'Head, Shoulders, Knees and Toes'. We learnt about how we need our sleep to keep healthy and grow.
We learnt the '5 Fat Peas' number rhyme. The children estimated how many peas were in their pea pods, then opened them to see how many there were. We are beginning to explore using marks such as tally marks to record how many we have.
In RE we listened to the story of Jesus being presented at the Temple.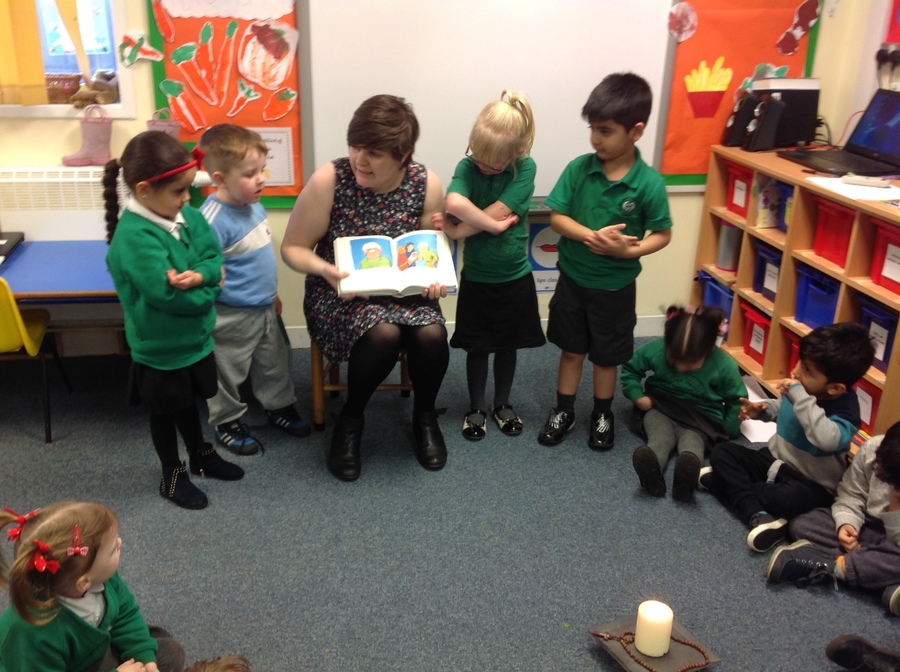 Week beginning 9th January
This week we began our new topic by reading 'Oliver's Vegetables' which is all about a boy called Oliver who only eats chips. During a visit to his Grandpa's he is challenged to find the potatoes in Grandpa's vegetable patch - but whatever vegetables he finds along the way, he must try. On each day Oliver finds a different vegetable which he tries - and enjoys! Finally at the end of the week he finds the potatoes which are scrubbed, peeled and made into chips.
The children have played a game based on the story; have painted some of the vegetables Oliver finds, looking carefully at the shape and thinking about the colours of paint they will need; have counted the vegetables in Grandpa's vegetable patch; and have been digging up vegetables in our own digging area outside. We also enjoyed a little bit of snow! In R.E. we have been thinking about different celebrations we have, such as birthdays, weddings, Eid, Christmas and Christenings.